Aptakisic
Jump to navigation
Jump to search
"Buffalo Grove Aptakisic" redirects here. It is not to be confused with, and is not a feeder for, the high school team Buffalo Grove.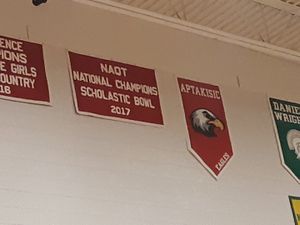 Aptakisic Junior High is a grade 7-8 public school in Buffalo Grove, Illinois. Teams are stylized as "Eagles" or "Berning Eagles".
Aptakisic won the 2015 IESA state championship. It is normally in a sectional that includes Barrington Station.
Aptakisic won the 2017 MSNCT. The team consisted of Arjun Nageswaran, Daniel Ding, David Lee, and Ram Potham. The team was further honored by the National Quizbowl Awards in 2017 with Nageswaran gaining a spot on the National Middle School "A" Team, and their coach, Barry Love being named national middle school coach of the year.
Notable alumni
Current Roster
Gautham Kappaganthula
Gaurish Lakharpal
Saumya Agarwal
Arjun Anand
Maurya Bonu
Timothy Bui
Nijaa Nishanth
Dhruv Pendharkar
Rithvik Vijay
Danny Zhang
Austin Golinkin
Aadi Ajmire
Jason Mascarenhas
Vidushi Gupta