Génies en herbe
Jump to navigation
Jump to search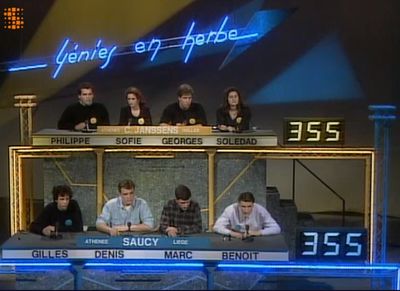 Génies en herbe (pronounced /ʒe.ni ɑ̃.n‿ɛʁb/) is the primary francophone high school quiz competition in Canada and around the French-speaking world internationally. It is not affiliated with Reach for the Top, the major anglophone format in Canada.
Radio-Canada years
Génies en herbe began in the 1973 season on Radio-Canada (francophone CBC). Originating in Quebec, it expanded to other provinces (even Alberta) by the late 1980s. In the early 1990's, the televised games were hosted by Martin Gélinas.
The series ended its TV run in 1997. A YouTube clip from that season ( http://www.youtube.com/watch?v=ptLtsv3_oS0 ) shows players doing something like dodgeball to earn points.
Collège Saint-Charles-Garnier appears to have been the most successful team of the televised era, winning 7 championships (and another one in post-television league play).
League play
League play began in 1988 and continued after the demise of the televised version. There is an active adult circuit over the summers in Quebec.
International versions

Génies en herbe spread to several countries starting in the 1980s. International competitions between national champions took place periodically, with champions from Belgium, Benin, Canada, Côte d'Ivoire, France, Senegal, and Zaire competing in international competitions from 1986 through 1998, with teams from Senegal winning the international title in 1994, 1995, and 1997. Here is a video of a team from Benin playing a team from Belgium in 1998. A list of champions and participating countries is available here.
Today, there are a number of countries that have TV shows and local academic competitions named for and derived from Génies en herbe, some of which have stopped but many of which continue.
"Génies en herbe" also appears to be used to refer to non-quizbowl but similar knowledge-recalling competitions in West Africa, including one international one with a section similar to 30-20-10 bonuses.
Countries that either currently have or at one time or another had Génies en herbe competitions:
Belgium
Televised competitions took place periodically from at least 1990 to 2004. See a video archive of some matches.
Benin
Competitions continue through 2020 among schools throughout Benin. See TV coverage of a recent competition here and the Facebook group for a national competition here.
Burundi
Competitions continue through 2021 among schools, particularly those in Bujumbura. See video of a recent match here and the Facebook group for the national competition here.
Côte d'Ivoire
Various revivals of Génies en herbe have been seen through the 1990s and as recently as 2018. See these videos of matches.
Democratic Republic of the Congo
Competitions have been held nationally and broadcast over the radio since 1988 and appear to continue in both Kinshasa (approximately 16 teams) and Goma as well as potentially other areas like Lubumbashi through 2020. Here is a list of champions. Here is an article with more information on a 2019 competition, including a top 10 list of individual scorers.
France
Senegal
Génies en herbe continued to be active and televised in Senegal periodically as recently as 2017. See various videos of matches.
Togo