Difference between revisions of "NAQT Illinois State Championship"
Jump to navigation
Jump to search
m

Line 138:
Line 138:
 

|UIUC

 

|UIUC

 

|[https://stats.neg5.org/t/B1lIQNc8f/2018-naqt-state]

 

|[https://stats.neg5.org/t/B1lIQNc8f/2018-naqt-state]

 
+
 
+
 
+
 
+
 
+
 
+
 
+
 
+
 
+
 

|-

 

|-

 

|}

 

|}
---
Revision as of 17:17, 23 February 2019
The NAQT Illinois State Tournament is one of three state championships held in Illinois.
Results
Notes
Ben Chametzky played solo in 2012.
With only around 320 students in regular attendance, University of Illinois Lab became the smallest known school to win any open or large division state championship (there may have been smaller schools that won a Masonic State Title in the early years before it was a true state-wide contest).
History
Northwestern began hosting an annual high school NAQT tournament in 1999, which was the first tournament to consistently use NAQT questions in Illinois. While the tournament started drawing as many as 41 teams in 2001 (with teams coming from Michigan, Missouri, Iowa, and Wisconsin), the tournament has seen a significant decline in attendance since. Northwestern no longer hosts a tournament with NAQT questions, though they still host high school and middle school tournaments.
Prior to 2005 few Illinois teams attended NAQT tournaments outside of Illinois. Perhaps, most notoriously, Loyola Academy attended and won the Iowa State Championship in 2004, a year in which it did not even advance from its own regional in the IHSA State Series. People such as David Riley, Linda Greene, and David Reinstein began pushing for more tournaments to be run on good questions like NAQT, which led to a gradual increase in the number of tournaments using the questions, and the number of teams coming out to the NAQT State Tournament.
While Illinois quizbowl questions have been gradually improving over that time, it was not until the 2004-05 season that Illinois would get its own regular state championship and qualifier for the HSNCT. This came largely at the request of Loyola Academy coach David Riley. Since this time, question quality has seen a gradual improvement. Local tournament and match formats are now largely in line with national standards.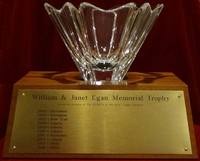 Starting in 2013, the tournament started recognizing a small school champion.
Starting in 2015, the winner of the tournament receives the William and Janet Egan Memorial Trophy, a perpetual trophy which the winner keeps only so long as they continue winning the tournament. The trophy was donated by the family of William and Janet Egan, and largely consists of a crystal bowl that was William's retirement gift. Even though the trophy was not awarded until 2015, it records the names of the tournament champions dating to the inception of the tournament in 2005. The IHSSBCA officially oversees the trophy and its awarding.
See Also
Organizations
State Tournaments
Awards & Honors
Major Tournaments