Lawrence Sung
Jump to navigation
Jump to search
Lawrence Sung
Noted Subjects:
General, History, Current Events
Current Collegiate Team
None
Past Collegiate Teams
None
High School Team
Arcadia High School
Middle School Team
None
Lawrence "Sungus" Sung (Class of 2021) is a player and public relations officer for Arcadia High School's quizbowl team who unfortunately is currently inactive. He also competes for Arcadia's History Bowl team.
Individual career
He is a two-time history bee regional finalist. At the 2018 National History Bowl championship, he put the team on his back and carried Arcadia's JV team to finish 56th in the country. At the absolute peak of his quizbowl career, he managed 5 powers, 8 tens, and 9 negs, on the 2018-2019 iteration of HFT. But when Arcadia Quizbowl needed him most, he vanished.
Lord Sungus' tragic hiatus from the QB world has been dubbed within the SoCal circuit as "Exit the King" in reference to a play by Ionesco.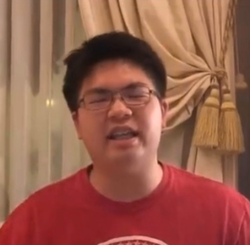 Personal
Lawrence is an avid member of the Arcadia Unified School District Digital Communications Internship Program (DCI), the Arcadia Bridge the Divide club, Arcadia's Speech and Debate team, the Arcadia Taiwanese Appreciation Club, Arcadia High School's Peer Mentors program, and he considers himself to be a proud patriot.
Other SoCal players have nicknamed him "Daddy Sungus", among other nicknames.
Lawrence is also the subject of a novella, written by Santa Monica player Josh Xu, entitled "The Epic of Sungus". Regarded as a classic example of Kafka-esque literature, "The Epic of Sungus" has quickly become quite famous in the SoCal QB community; you can pick up a copy at Zapf's Used Bookstore in San Narciso, CA.
Tournament Results
2019 Southern California State History Bee - 10th place
2019 Triton Winter VII - 7th place (5/8/9)
2018 Canyon Crest Powered Points II - 10th place (5/20/12)
2018 National History Bowl Championship - 56th place
2018 REKT I (JV) - 7th place (20/28/11)
2018 Beaver Fever Invitational - 4th place (7/19/14)
2018 Los Angeles Regional History Bee - 5th place
2018 Bronco Bowl III (JV) - 1st place (5/11/7)
2017 Del Norte Edgehog Winter Tournament I - 15th place (2/8/7)