Qwiz
Jump to navigation
Jump to search
Qwiz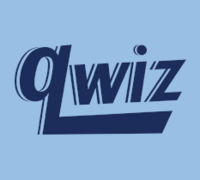 Qwiz is a company founded in 2018 that aims to help middle and high school students improve in quizbowl. Qwiz was formed by Eric Huff and Josh Rutsky.
Qwiz produces free weekly study guides called Qwiz5, runs in-person and online quizbowl camps, and produces the National Quizbowl Conference.
Camps
Qwiz ran its first camps in the summer of 2019. It added an online camp in 2020 during the COVID-19 pandemic.
In-person Qwiz camps are offered as four- or seven-day sessions that include subject-specific classes, buzzer practices, and both individual and team competition events. These camps are available as either day camps or boarding camps.
Summer 2020

| Host | Location |
| --- | --- |
| Zoom | online |
Qwiz Academy
In fall 2021, Qwiz launched a series of online courses called Qwiz Academy, which offers subject-specific lessons during the school year.
| Season | Offerings |
| --- | --- |
| Fall 2021 | Ancient History, Physics Essentials |
| Winter 2022 | American Literature, Biology, Composers |
| Spring 2022 | American History (to 1861), World Mythology, Quizbowl Mathematics |
Qwiz5
Qwiz has also released a series of study pages called Qwiz5 on its website. The company has an active Twitter Feed that posts quizbowl-related announcements, results, and factoids regularly.
National Quizbowl Conference
Starting in 2021, Qwiz has hosted a National Quizbowl Conference every February. Speakers at the 2021 edition included Chris Chiego and Fred Morlan.
External Links

Qwiz Academy opened Winter 2021