Cardinal Classic VII
Jump to navigation
Jump to search
Cardinal Classic VII was a tournament held at Stanford the weekend of February 7-8, 1997. The tournament was criticized by some for excessive delays in gameplay as well as some problematic questions, including a large number of repeats.
Results
Teams competed in a 14-game round robin, after which the top three teams were: Berkeley A 14-0, Vanderbilt 13-1, and UC-Davis 11-3. In addition, three teams were tied for fourth place: UCLA, BYU, and Stanford.
Playoffs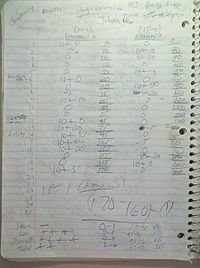 As per standard practice at Cardinal Classics in the mid-90's, the top four teams entered a single elimination playoff. It took a half an hour before Stanford decided how to break the tie for fourth place: UCLA, BYU, and Stanford would play simultaneously in a three-team game, with the winner advancing. BYU won the three-team game (with a score of approximately BYU 195, UCLA 140, and Stanford 135). Finally, Berkeley A, Vanderbilt, UC-Davis, and BYU played a single-elimination playoff. Berkeley beat Brigham Young 265-100 and Vanderbilt defeated UC-Davis A 380-55 to advance to the final. Going in to the final question, Berkeley A led 160-155. The final question was, appropriately, a repeat: the third occurrence of Ibsen's A Doll's House in the tournament, which Darrell Frye correctly answered. After picking up five points on the bonus as time expired, Vanderbilt won the final 170-160.
Individuals
The leading scorers were David Farris from Edison High School (47.5 PPG), Pat Friel from UCLA (40.4), and Norm Gillespie from BYU (38.9). Vanderbilt's leading scorer was Steven Schroeder (who was known for the duration of the tournament as "Grunties") with 33.6 PPG. Interestingly, Schroeder answered no tossups correctly during either playoff match while picking up 2 negs.
External Links