Hillary Clinton
Jump to navigation
Jump to search
Above:
1965 Maine South team with Hillary Rodham, second from left in the top row.
Hillary Clinton (nee Rodham) is a former player for Maine South, which she represented on the Chicago version of It's Academic in 1965. She went on to Wellesley and Yale, but there is no record she played quizbowl or any similar competitions there. She earned her JD from Yale in 1973.
After a 57-year absence from the game, Clinton returned to the open circuit to play a round of law-themed speed quizbowl against Kim Kardashian in 2022. Clinton lost by a score of 11 to 4, which, despite her IA experience, she blamed on poor buzzer speed.[1]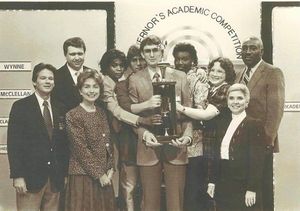 Like many high school coaches and players, she has had e-mail issues.
External links