Matt Laird
Jump to navigation
Jump to search
Mathew J. Laird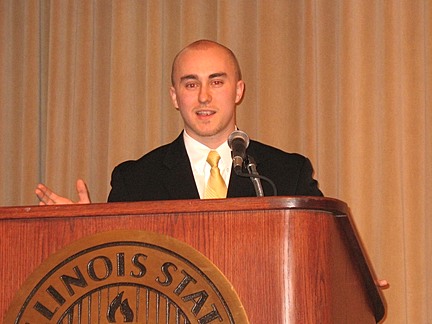 Laird at the 2008 IHSSBCA Awards Banquet
Current team: None
Career record: 372-104
Former school(s): Loyola Academy, Stevenson
Other leadership: IHSSBCA Publicity Chair (2006-2010)

IHSSBCA All-State Program Coordinator (2007-2013)
Mathew J. Laird was a question writer and coach. He was a principal co-founder of Aegis Questions, Inc. Despite his relatively young age, his enthusiasm, knowledge of the rules, and excellent moderating earned him the respect normally only afforded to much older and seasoned coaches. In October 2018, Laird was charged with several sexual offenses involving minors. In April 2019, Laird was sentenced to 35 years in prison after pleading guilty.[1]
High School Career
Laird played his entire career at Loyola Academy in Wilmette, Illinois, and as a senior started on one of Loyola's best teams. The 2004 squad was considered one of the best in the state, and was favored to win its Regional and Sectional to advance to the State Finals for the first time since 1996. Unfortunately, the Regional Championship did not go according to plan, and the Ramblers were upset by an up-and-coming Maine South team.
Coaching
Laird graduated and began attending Loyola University in Chicago, but rather than attempting to start a program there, he returned to Loyola Academy, and began acting in the capacity of an assistant coach to longtime head coach David Riley. While he continued his studies in preparation for teaching, Laird continued to commute to help coach the frosh-soph team, while helping with the varsity on occasion. He added an infusion of energy that greatly helped the team. As Coach Riley began to experience health problems, Laird became an even bigger asset to the program. Upon Riley's retirement in 2011, Laird became the head coach at Loyola. He began teaching English at the school the same year.
In 2006, Laird inaugurated an annual match between Loyola Academy and Maine South. The match had been born of some close matches that dated back to the loss dealt to Laird's 2004 team. The "Bloodstone Cup" match lacked only an appropriate trophy, which Laird himself provided. He secured a crystal goblet, to which he affixed red stones (suggestive of the maroon colors for Loyola, and the red for Maine South). He then obtained bloodstones, hand tumbled them, and added them to the goblet. He obtained an appropriate display case which he stained by hand.
In Laird's second year coaching, he coached his Varsity team to third place finishes at both HSNCT and NSC.
After leaving Loyola and coaching for two years, Laird became the assistant coach at Stevenson for the 2016-17 season.
In 2005, Laird was present at the New Trier Varsity Tournament, and was a part of the conversation to start a new question company based on writing quality pyramidal questions. From that conversation, Aegis Questions was formed, the first Illinois-based question company that specialized in pyramidal questions.
Officiating
Always considered an excellent moderator, Laird volunteered for several years at the NAQT HSNCT in Rosemont, Illinois. In 2007, he was invited to join the moderating corps at the IHSA State Championship Tournament, making him the youngest moderator to ever read at the State Finals.
For the 2007-08 season, Laird took over as coordinator of the IHSSBCA All State Program, an audacious task that is perhaps the most complex program run by the IHSSBCA.
In March and April 2009, Laird and Jonah Greenthal conducted a survey of current and former Illinois high school players, which featured questions about changing the unusual Illinois bonus format to an ACF-style one and about changing the distribution of certain minor categories such as driver's ed and agriculture. The survey was sent to the IHSSBCA and IHSA Scholastic Bowl advisory committee with the intention of accompanying a similar survey the IHSSBCA took of coaches. Its results are available here.
End of quizbowl career
In October 2018 Laird was charged with several sexual crimes involving minors. His involvement in quizbowl ended as soon as the quizbowl community became aware of the situation.
In April 2019, Laird was sentenced to 35 years in prison after pleading guilty.[1]
References