David Riley
Jump to navigation
Jump to search
David Riley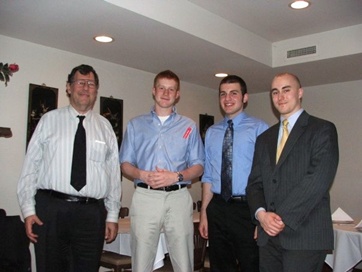 Riley (far left), shown at the 2008 Loyola Scholastic Bowl banquet with players Jack Glerum (second from left) & Mike Verity (second from right), and Assistant Coach Matt Laird (far right)
Current team:
Loyola Academy
Career record:
Former school(s): none
Other leadership: IHSSBCA Chair (1998-2004)
IHSSBCA Hall of Fame (2011)
David Riley (1956-2015) was the long time Scholastic Bowl coach at Loyola Academy in Wilmette, Illinois. Formerly a librarian at the school, he had a virtually endless reserve of knowledge in the fields of literature, gourmet foods, Hungarian history, and classical music.
Coaching
Riley accrued an impressive win-loss record over his storied career, breaking 1000 victories before his retirement. In 1996, his Ramblers won their first Sectional Title, and advanced downstate where they lost a gut wrenching 210-158 decision to Notre Dame High School of Peoria, on some very bad questions. They won their Sectional again in 2009, under the captainship of Jack Glerum, and finished 4th in Peoria that year. The Ramblers also almost went downstate in 2010, but lost on a circle-of-death tiebreaker by 3.3 pp20TUH.
Riley's teams also claimed at least four Regional titles in 2003, 2005, 2009, and 2010.
Riley also served as coach for Team Illinois from 2002-2007, leading the team to a second place finish in his inaugural season. In 2005 and 2007, last minute health issues forced him to stay at home and not travel with the team. Over his tenure, Team Illinois finished in second once (2002), third twice (2004 & 2005), and won the tournament championship in 2007. Though Riley did not travel with the team, he is at least partially responsible for the 2007 Team Illinois Travel Disaster. He reclaimed his role as Team Illinois Coach last year, along with Mike Laudermith, at the first incarnation of the NASAT. Riley Lead Team Illinois to a 3rd place finish after losing the tiebreaker game against South Carolina.
Coach Riley for some reason took Loyola to a few NACs, but has long since stopped attending. Since then, he has taken his team to several PACE NSC's and more NAQT HSNCT's.
Among Riley's favorite coaching stories is the one about Loyola's historic victory over Wheaton North in the semifinals of the 2004 "Bulldog Classic" at Richards High School in Oak Lawn. It would turn out to be Wheaton North's only loss of the season en route to their third consecutive state title, and a 95-1 record.
While Riley has rarely had reliable, long-term assistance in his coaching duties, in 2004, a former player, Matt Laird returned to act as an assistant. Laird coached the team for 5 years, took 2 off, and returned again in 2010 to coach the frosh/soph, taking over the team entirely beginning with the '11-'12 season as Riley retired for health reasons. The '12-'13 Loyola team, consisting of the last players directly coached by Mr. Riley, placed third at both nationals.
Amongst Riley's most famous coaching idiosyncrasies was to accuse his players of having "no sense of civilization" every time they miss something related to opera, old movies, or 60s girl groups. He was also fond of mentioning that "this would never happen in New York" in similar situations.
Riley the Reformer
Few Illinois coaches have led a charge for change for as long as David Riley. For well over a decade, Riley has railed against the entrenched establishment to make changes in Illinois Scholastic Bowl, including (but not limited to): improved questions, a greater reliance in pyramidality, changes in rules to open up the game to players, and give greater power to moderators to make the best call, instead of relying on outdated "behavior" based rules which could only penalize better teams.
For a number of years, Riley was President of the IHSSBCA, from which he could help focus the conversation of reform in Illinois. He also served two terms on the IHSA Scholastic Bowl Advisory Board where he acted to council the IHSA on reforming itself.
Riley was among the first coaches to host an NAQT event in Illinois, and was for a few years the tournament director for the NAQT State Tournament.
Riley also originated the Ultima tournament which he continues to host at Loyola. Through 2008, the Ultima was in the format of the Panasonic Academic Challenge and was intended to act as a gauge for potential Team Illinois players for the upcoming year. Due to the IHSSBCA's 2008 decision not to continue sponsorship of Team Illinois, Ultima began to run normal quizbowl style tournaments, mostly using housewrites. Participation had previously been strictly reserved for teams based on a Riley-invented points system which ranks teams based on the previous year's varsity and frosh-soph performance. Currently, it is open to any high school teams.
Legacy
Riley had been in slowly declining health since at least 2005. While health eventually forced him to step away form coaching, Riley continued to moderate until 2014. Riley passed away in late 2015. His former school, Loyola Academy, hosted a memorial mass in his honor attended mostly by former players and representatives from the Illinois coaching family.
The Ultima Tournament now awards a traveling trophy named in his honor.
The Commonwealth of Kentucky named Riley an Honorary Kentucky Colonel, largely for his work in quizbowl.
Starting with its 2016 iteration, PACE renamed its annual coaches meeting in David's honor.