Shiva Oswal
Jump to navigation
Jump to search
Shiva Oswal (Class of 2022) is a resident of Cupertino, CA. He has participated in Middle School and High School tournaments at the local, state, and national level. He first started playing Quiz Bowl in 5th grade, after being introduced to the game in late 2014 by Ankit Aggarwal. In 2016, he wrote the 60-tossup Russian History Bee set, which was played at the 2016 International History Olympiad run by David Madden.
Notable Achievements
Shiva first entered national prominence when he became the youngest player to become an All Star at the 2015 MSNCT. Since then, he has been a National All-Star at the MSNCT in 2016, 2017, and 2018, including being the top scorer at the 2018 MSNCT and the second-highest scorer at the 2017 MSNCT.
In January 2017, NAQT began its program of honoring top teams and players each week. As part of this program, Shiva was named the first-ever NAQT Middle School Player of the Week for the week of Jan 7, 2017. Later, Shiva was also named to the National Middle School Quiz Bowl A Team for 2017.
At the 2018 MSNCT, Shiva posted a 14-1 record en route to winning the entire tournament solo! In the finals, he defeated BASIS Silicon Valley A 490-335 to clinch the tournament. He was the National Middle School Player of the Year and Captain of National Middle School A Team for 2018 [1].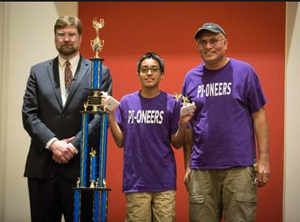 In 2019, Shiva won David Madden's JV National History Bee title, scoring 47 points in the final on the 6-5-4-3-2-1 scoring system.
Quizbowl / History Bowl career
Team Pi-oneers
Shiva Oswal was the captain of Team Pi-oneers between 2014 and 2020.
Team Stanford Online
In 2018, Shiva Oswal started playing Quiz Bowl as a member of Stanford Online, an online school based in the Bay Area. Shiva captained many local and regional tournaments as a member of Team Stanford Online B where his team won multiple times. The team made its regional debut in the fall of 2018, and its national debut at the 2019 HSNCT, where the team finished and tied for 49th.
COVID Pandemic
Shiva essentially retired from Quizbowl and History Bowl in March 2020, partially due to the COVID-19 Pandemic and the necessity of online quizbowl tournaments.
Outside of Quizbowl
Shiva appeared on Who Wants To Be a Millionaire's Whiz Kids edition in late 2017, winning $250,000.
He is a major fan of George R R Martin's A Song of Ice and Fire heptalogy, and HBO's Game of Thrones television series.
He believes in the existence of aliens, although he thinks the The Drake Equation is essentially circular logic.
He's current majoring in Computer Science at Carnegie Mellon University.