David Reinstein
Jump to navigation
Jump to search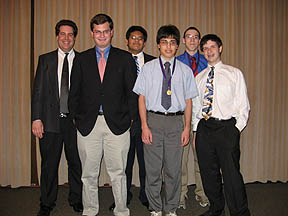 <font style="font-size:9pt">David Reinstein</font>
Current team:
New Trier
Career record: 752-190
Former school(s): none
Other leadership: IHSSBCA president (2005-)
David Reinstein has been a coach at New Trier since the 1994-95 season. He has been the Chair of IHSSBCA since 2005.
Coaching
Reinstein has coached consistently strong teams for many years. His teams have won nine IHSA Sectionals; all in a very tough north suburban sectional complex. They have won many Central Suburban League titles. The frosh-soph and varsity teams combine to take home about ten trophies each year from various invitationals, and in recent years have had some successes at national tournaments.
David's New Trier teams often had troubles playing for State Championships. His first team lost what was then the closest State Final in Illinois history, dropping a 221-201 final to Richwoods High School of Peoria. New Trier did not return to the Championship until 2007, which they won, defeating Wheaton North 325-218. New Trier lost their only two appearances in the Masonic State Finals, both times in very close matches on very bad questions.
Reinstein took over as coach when he started teaching at New Trier. He had planned on coaching Math Team, but that team already had many coaches, so he filled a need in Scholastic Bowl. He was told that he could have the position if he was willing to drive a van, since the other coach that year did not have a license. Since then, David has worked with several coaches.
Before becoming a father in December 1998, David attended all of his team's matches. He now misses out on weekday matches, most out-of-town tournaments, and occasional local tournaments. David is still in charge of organizing pretty much everything the team does.
Until its 2009 cancellation, Reinstein was an annual guest on the Kathy and Judy Show on Chicago's WGN radio during the week of the IHSA State Championship. Most of the time was spent asking sample questions to the hosts of the show, with somewhat humorous outcomes. It is annually the biggest publicity moment in Illinois Scholastic Bowl. (listen to the 2009 appearance)
IHSSBCA
David has played a major role in IHSSBCA since the organization was about one year old. He first gained attention by starting a petition asking IHSA to improve question quality. Coaches from over forty schools signed the petition, and the result was that New Trier got a bunch of angry phone calls from IHSA. Many years later, however, IHSA did improve its question quality somewhat. With the Masonic Tournament having used improved questions written in part by some of David's former students at Aegis Questions for 2008 and 2009, David is proud to have played a role in improving questions for both of Illinois' state tournaments. (Unfortunately, the Masons regressed to Questions Galore for the 2010 series.)
David has a long history of managing Turnabouts and writing letters and articles for IHSSBCA. He succeeded David Riley as Chair a few years ago, and the organization has continued to grow under his leadership. Some of the programs that came into being since Reinstein took over are the awards dinner, Hall of Fame, ethics guidelines, moderator certification, and the annualization of SchoBowlFest. David hopes to improve publicity and fundraising in the future.
Tournament Hosting
In addition to an occasional IHSA or Masonic Regional or Sectional tournament, Reinstein has run the Scobol Solo each year since 2001. He writes the questions and rules and draws up the pairings, which involve roughly 400 matches each year put together using a power-matching format. His questions are known for being challenging, academic, almost mistake-free, and easily available on the internet. The Scobol Solo uses about 400 tossups each year.
From 2005 to 2007, the New Trier Varsity was hosted by Carlo Angiuli and Nick Matchen, who graduated from New Trier in 2007; duties were taken over by Jonah Greenthal beginning in 2008. Though not usually responsible for questions, David acts as logistical director, taking charge of keeping track of team registrations and ordering food. He sometimes plays a major role with scheduling.
Personal
David graduated from Niles North in Skokie, Illinois in 1986. As a senior, he won the oral competition in the ICTM State Math Contest and was chosen as one of twenty finalists for the first-ever US Physics Olympiad team. He also played Valere in a student production of Molière's The Doctor in Spite of Himself. David graduated from Brown in 1990 with an AB in Physics. He then taught math and computer programming for two years at ASA, a school for dropouts, including Da Brat, and teen mothers on the West Side of Chicago. He taught self-contained 6th grade in Wheaton, Maryland for one year at The Maharishi School, which was for practitioners of Transcendental Meditation. David then spent a year getting his Master's from Northwestern and then started teaching at New Trier. David used to teach both math and physics at New Trier, but he stopped teaching physics after a few years.
David married his high school girlfriend in 1994. She is a pediatrician. The couple has two daughters and a son.
External Links