New Trier
From QBWiki
New Trier Trevians
Location:
Winnetka, Illinois
Club President
None
Coaches
Benjamin Yang
State Championships
2007 IHSA, 2007 NAQT
National Championships
National Appearances
Unknown
Program Status
Unknown
School Size
Unknown
New Trier High School is a public high school in Winnetka, Illinois, a suburb north of Chicago. Until 2011, it competed in pretty much all of the mACF tournaments near Chicago, a national tournament each year, the Central Suburban League, Masonic, and IHSA Class AA, though the team has cut many tournaments from its schedule since then. The team is often stylized as the "New Trier High School Happy Buzzer Squadron". Past coaches include David Dickman (who started the team during the 1980s), Terry Witt, Michelle Shade (nee Karlin), Erin Weller, and David Reinstein. Reinstein coached the team from 1994-2011, during which time the team was pretty much always considered among the top ten teams in Illinois and usually among the top five.
Tournament Hosting
2005 saw the start of the New Trier Varsity, whose questions were written by Carlo Angiuli and Nick Matchen, two juniors on that year's team. The 2006 tournament was written by Aegis Questions, the official company started by Carlo and Nick along with others, most notably Loyola's Matt Laird. In 2007, Aegis again provided the questions, and the rules were modified to better fit mACF rather than Illinois Scholastic Bowl Format. In 2008, Aegis stopped providing questions to the tournament that had led to its own creation in order to focus on the Masonic series, but Aegis folded a month later. The 2008 tournament was thrown together in the last month mostly by Jonah Greenthal and David Reinstein. For 2009, Jonah recruited several writers who put together a solid housewrite that was mirrored by UCLA. From 2010 to 2013, the tournament was a mirror of GSAC; in roughly the same time period, it has attracted many of the strongest teams from all around the country.
Since 2001, New Trier has hosted the Scobol Solo, which almost always took place in November. The questions are written by David Reinstein, who has received an increasing amount of help over the years, and it has annually attracted about 128 of the top players in the state (and occasionally some from outside of Illinois). Some consider it "the unofficial individual state championship." The tournament is Tossup Only and is power matched, guaranteeing students seven matches. Starting in 2010, the tournament uses a computer program written by Jonah Greenthal that instantly posts results.
Noted Team Accomplishments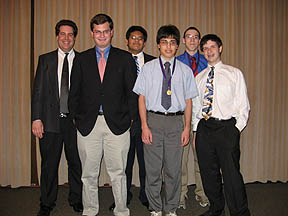 CSL Frosh-Soph Season Champions (12): 1994-97, 2000-04, 06-08
CSL Frosh-Soph Tournament Champions (9): 1995-96, 98-2001, 03, 06-07
CSL Varsity Season Champions (12): 1995, 97, 99-2003, 07-11
CSL Varsity Tournament Champions (10): 1995, 99, 02-03, 05, 07-11
IHSA Regional Titles (14): 1997-2000, 2002-10, 2012
IHSA Sectional Titles (11): 1990, 1995, 1997-99, 2002-03, 2006-07, 2010, 2012
IHSA Championship Tournament Champions: 2007
IHSA Championship Tournament Runner-Up: 1995
Midwest Championship: 2007
New Trier has qualified for the second day championship rounds almost every time it has entered a national tournament, namely the 2004 and 2007 PACE NSCs, and the 2005-10 NAQT HSNCTs. At the 2009 PACE NSC, the team ended up in the second tier after a close loss to Chaska, and the team finished lower at the 2011 NSC.
IHSSBCA Individual Awards
The following were honored by the Illinois High School Scholastic Bowl Coaches Association (IHSSBCA) for outstanding play through their All-Sectional/All-State Program. Each sectional comprises roughly 24 geographically concentrated teams, and thus roughly 125 starting players. Through the 2006-07 season, the top ten players were recognized in each sectional,(starting with 2007-08, the number was raised to 15) with teams restricted to no more than two nominations (three nominations starting in 2007-08). There are twenty All-State awards given each year (10 First Team, 10 Second Team) in each of Illinois' two classes.
All-Sectional Honorees
All-State Honorees
Players
Team Captains
External Links