Wheaton North
Jump to navigation
Jump to search
Wheaton North Falcons
Location:
Wheaton, Illinois
Coaches
Grace Chu
State Championships
2002 IHSA, 2003 IHSA, 2004 IHSA, 2003 Masonic, 2004 Masonic
National Appearances
HSNCT: 2005, 2007, 2014, 2015
PACE: 2008
Program Status
Unknown
School Size
Unknown
NAQT Page
link
"IMSA may have, for the moment, won more state championships, but do not kid yourself. In the early twenty-first century, Wheaton North is the elite program in Illinois. They are excellent tournament hosts, they travel well, and have a hardware collection that rivals Craftsman. Beyond that, they are as gracious in victory as they are in defeat ... not that many people have ever seen the latter." —Tom Egan
Wheaton North High School is a public high school located in Wheaton, Illinois. Their nickname is the Falcons. The team currently competes as a member of the DuPage Valley Conference (DVC). It also competes in Class AA, the "large school" division, of the Illinois High School Association's (IHSA) State Championship Series. Their founding coach is Susan Martin, succeeded by Phyllis Kidd, briefly by Dee Horky, and then by Cyd Paulsen.
History
Over the tenure of Coach Martin's coaching career, she has led Wheaton North to becoming one of the premiere programs in the Midwest, with a record of 753-153 over her first twenty years at the helm. Only in her first and third year did Wheaton North see a losing record.[1]
Wheaton North can also lay claim to one of the great seasons in Illinois Scholastic Bowl history when, in 2003-04, the team won its third consecutive state title behind a season record of 95-1. Their sole loss (as Loyola coach David Riley repeats to anyone willing to sit still long enough to listen), was to Loyola Academy in the semifinals of the "Bulldog Classic" at Richards High School in Oak Lawn. While it is not the record for wins in a season in Illinois, no one has approached the winning percentage that Wheaton North accrued in so many matches.
The school administration has been especially supportive of the Scholastic Bowl program. The team's championship photos can be seen prominently with athletic champions in the hallways, and banners commemorating their state titles hang in the gymnasium.
On January 26, 2008, Coach Susan Martin publicly announced that she would be retiring from coaching at the end of the 2007-08 season. She coached her final game at the IHSA State Championship Tournament on March 14, 2008, guiding her team to third place in state. She ended her career with an overall record of 946-189, of which she accrued a record of 915-174 while at Wheaton North.
Tournament Hosting
Wheaton North is one of the most active tournament hosts in the Chicago area, and likely in the State of Illinois. In addition to the duties of acting as one of the sites for the annual IHSSBCA Kickoff Tournament, Wheaton North hosts its own frosh-soph tournament (after hosting a third varsity tournament for years). Their annual spot as a top Sectional school usually means that they are hosting an IHSA Regional Tournament. Their access to great competition facilities and a long list of expert moderators means that they are regularly asked to host an IHSA Sectional Tournament.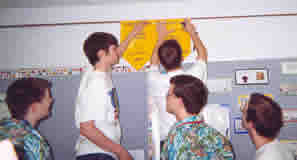 Wheaton North is also one of the few schools in the Chicago area to offer an adult tournament, usually hosted in the Spring, to raise money for a scholarship fund.
Teams who play against Wheaton North on their home turf usually play them in their "museum room", in which hang numerous conference, regional, sectional, and state championship banners, championship display brackets, in addition to the more than modest trophy collection (the largest trophies being on display elsewhere in a permanent case).
The Uniform
When the IHSA passed its infamous uniform requirement, Wheaton North opted to dress in Hawaiian-style shirts. The uniform was a tribute to Steven Wilkinson, a Wheaton North Scholastic Bowl player who died in a car accident in 1999 before his senior year, when he would have been captain. While at first, some coaches wondered if the uniform violated the "appropriateness" standard of the rule, the team has never had a serious challenge to their use. Today, they have become the team's unofficial trademark, and often make the Falcons the most easily identifiable team at virtually any tournament. In 2005, the IHSA received possession of one of the shirts, and added it to the display case in their headquarters foyer, which contains many artifacts from past champions in their sports and activities. Wheaton North's shirt is the only representation for Scholastic Bowl.
Noted Team Accomplishments
DVC Champions (16): 1989, 91, 93-96, 98-99, 2001-08
IHSA Regional Titles (8): 2001-08
IHSA Sectional Titles (14): 1991, 93-95, 99-2008
IHSA Championship Tournament Champions: 2002-04
IHSA Championship Tournament Runner-Up: 2001, 05, 07
IHSA Championship Tournament Third Place: 2008
IHSA Championship Tournament Fourth Place: 2006
IHSSBCA Individual Awards
The following were honored by the Illinois High School Scholastic Bowl Coaches Association (IHSSBCA) for outstanding play through their All-Sectional/All-State Program. Each sectional comprises roughly 24 geographically concentrated teams, and thus roughly 125 starting players. Through the 2006-07 season, the top ten players were recognized in each sectional,(starting with 2007-08, the number was raised to 15) with teams restricted to no more than two nominations (three nominations starting in 2007-08). There are twenty All-State awards given each year (10 First Team, 10 Second Team) in each of Illinois' two classes.
All-Sectional Honorees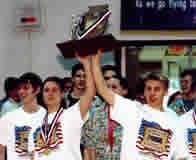 2001-02: Lori Sommars, David Vock
2002-03: Paul Gauthier, David Vock
2003-04: Paul Gauthier,
2004-05: James Nyenhuis, Devin Patel
2005-06: Greg Gauthier, Ian Slack
2006-07: Greg Gauthier, Jonathan Irving
2007-08: Greg Gauthier, Jonathan Irving, Jeff Sommars
2008-09: Michael Perovanovic
All-State Honorees
2001-02: Lori Sommars (1st team), David Vock (2nd team)
2002-03: Paul Gauthier (1st team), David Vock (1st team)
2003-04: Paul Gauthier (1st team)
2004-05: James Nyenhuis (1st team), Devin Patel (2nd team)
2005-06: Greg Gauthier (1st team), Ian Slack (2nd team)
2006-07: Greg Gauthier (1st team)
2007-08: Greg Gauthier (1st team), Jonathan Irving (2nd team)
Through the end of the 2007-08 season, Wheaton North players have earned more First Team All-State, and more overall All-State awards than any program in Illinois, both records tied with Auburn.
Lori Sommars (2002)
Paul Gauthier (2003, 2004)
David Vock (2003)
Greg Gauthier (2006, 2007, 2008)
External Links