Bergstrom Stateline
Jump to navigation
Jump to search
Bergstrom Stateline is a a high school televised quizbowl tournament in Rockford, Illinois hosted by WTVO Channel 17 / WQRF FOX 39. It was first televised in 2015 for Northwest Illinois high school teams. Then from 2017, a another separate tournament titled "Tournament of Champions" was held for all Illinois high school teams. The tournament has held six seasons as of 2020, while the "Tournament of Champions" has held two seasons.
Broadcast history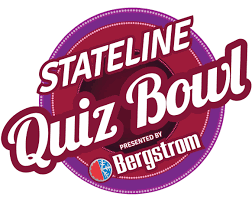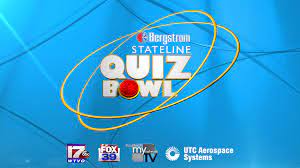 Hosts
The tournament was hosted by Nick Toma a Eyewitness News Anchor, from 2015 to 2016 until his departure from the news station. He was replaced by Eric Wilson a Eyewitness News Anchor, who to this day still hosts the tournament.
Format
The regular tournament are attended by thirty-two teams from Northwest Illinois high school teams. The "Tournament of Champions" are attended by eight teams from Illinois as a whole.
Timeslot
Episodes air on Saturdays at 6:30 PM on WTVO. Sundays at 8:30 PM on MYNETWORKTV. Sundays at 9:30 PM on FOX 39.
Sponsorship
The tournament has been sponsored by Toni's of Winnebago and Portillos. The sponsors offer giftcards to teams who answer a special question between the volleyball round and lighting round.
Questions/Rules
Since its creation, the tournament has used NAQT packet sets that are specifically used for television shows. The tournament uses Standard NAQT Television rules. The rules allows two teams to play against each, while only four players are permitted to play for each team. The standard tossup count is 40 (This is the generic denominator used to normalize scores for reporting purposes. That is, statistics under these scoring rules are reported in terms of points per 40 tossups heard. For rules that use timed games, it represents a typical number of tossups heard in a game, though variation exists. For rules that use untimed games, it represents the number of tossups that will be read in regulation in a standard game.)
Matches in the tournament is divided into four segments. The first segment is a "Buzz-in Round" where players answers questions for ten points, like in actual tournaments. The second segment is a "Volleyball Round" where each team is given a question that they can only answer. The team may discuss what the answer is but only the captain can answer. Each of the volleyball questions are for ten points. The third segment begins with a special question to acquire a giftcard to one of the sponsors, then continues into a "Lighting Round". A team then decides between three categories then answers the questions within the chosen category. Like the previous round, discussion is allowed but only the captain can answer. They must answer ten questions in sixty seconds. Any incorrect or skipped questions is then answered by the other team in thirty team. This team then chooses the second category and repeats the previous process. The fourth segment known as the "Final Challenge" has teams answers questions like in the first segment, but each question's points are double.
The questions' distribution can vary, but the categories in the question set are literature, science, history, fine arts, RMPSS and trash. Computation math questions rarely appears.
Results
Bergstrom Stateline Quiz Bowl
Bergstrom Stateline Quiz Bowl Tournament of Champions
Links