Mike Laudermith
Jump to navigation
Jump to search
Mike Laudermith is a coach, moderator, and tournament host.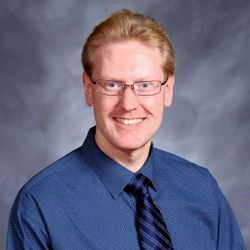 Mike graduated from West Leyden High School in 1997. While in high school, Mike was a top player in Illinois, winning the Ultimate Scholar solo competition and being on the first Team Illinois, which competed at the Panasonic Academic Challenge.
Shortly after finishing college, Mike became a teacher and coach at Fenton. Under Mike's leadership, the team became much more active. The team has competed at three HSNCTs, making the playoffs in 2014. Mike has hosted many tournaments at Fenton, including IHSSBCA Turnabouts, IHSSBCA Novices, and NAQT Illinois State Championships. If there is a Saturday when he is not hosting or coaching, he probably is moderating. Mike is a highly sought moderator who staffs many tournaments in Illinois and many national championships. Mike has also been a leader in the IHSSBCA, serving for many years as the organization's Treasurer.